Ballets Russes
Léon Bakst's Narcisse (1911) on Ballets Russes official program
Michel Fokine and Tamara Karsavina in Stravinsky's The Firebird, ca. 1910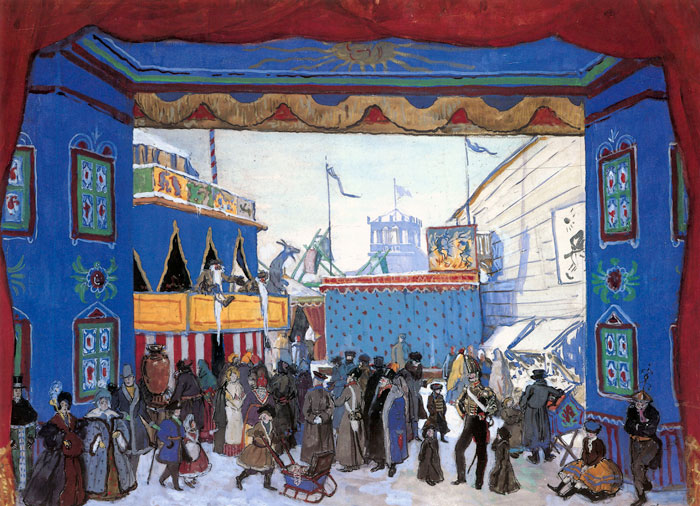 Benois stage design for part I of Petrushka ca.1911
Cast of Polovtsian Dances in act 2 of Prince Igor, with choreography by Michel Fokine, 1923.
click image for source
Ballets Russes was a travelling Russian ballet comapany which operated between 1909 and 1929 under the direction of Sergei Diaghilev. It is regarded as one of the greatest dance companies of the 20th century/eva and has greatly influenced every facet of art. Ballets Russes was a primal yell during the Belle Epoque and an amalgamation of the 1910s artistic creme de la creme, featuring the likes of Stravinsky, Pavlova and Être- just to name a few. Choreographers, dancers, composers and costume designers alike collaborated on a piece together instead of remaining separate entities, lending to the lush and distinct aesthetic of productions. The performances staged by this company shunned orthodoxy as the choreography was expressive and unrestricted by the technicality of classical ballet. Quite like a Lady Gaga or Yeah Yeah Yeahs concert, I'd imagine the full-blown, avant-garde theatrics of Ballets Russes to evoke every emotion available on the emotional spectrum; from awe to disgust, to joy and sadness. In fact, during one ballet,
Le Sacre du Printemps
, the audience was clearly overwhelmed with feeling as they rioted over Stravinsky's maaad beatz and the 'MA15+' content (spoiler: there was a knee or two showing and a live sacrifice gasp!).
I would've loved to experience a Ballets Russes production but as luck would have it I'm stuck in the 21st century with mutant trans fat and trial exams next week. So until the S.Hawk-man invents a time machine I'll be pretty content gawking at the photographs, costumes and ART created by those involved in the company. Expect
lots
of
Erte
and Bakst and Goncharova spam. Ballets Russes... best thing ever?
p.s. How are you?